2019 Events Coming Soon!
2018 Special Events
Kickoff Party – SOLD OUT!
Pops' Playhouse powered by Entergy
Family Fun Activities Saturday and Sunday, August 4 & 5, 11:30am to 4:30pm inside the New Orleans Jazz Museum at the Mint (2nd floor)!
Zulu Coconut Decorating Station Hosted by Junior Zulus
Get creative with the Jr. Zulus of the Zulu Social Aid and Pleasure Club! Kids can decorate and keep their very own Zulu coconut, while learning about the history and traditions of this beloved New Orleans institution that crowned Louis Armstrong King back in 1949.
Second Line Umbrella Decoration & Celebration Station Hosted by FQFI
Kids can decorate their own second line umbrella to keep, stay shaded and use in the second line parade.
Satchmo STEM Hosted by Girl Scouts of Louisiana East
STEM Building Straws – kids use straws to build towers, shapes, and more.
Armstrong Art: Collage and Compare! Hosted by Lil' Yats Art & Play
Sunday Only (All day)
Just like Louis Armstrong, your Lil' Yats will be making collage banners using newspaper clippings, magazines, painted paper, music sheets, scotch tape and more to create an expression of art following in the steps of Satchmo.  Kids can compare their creations to Pops' original collages on the 2nd floor of the Jazz Museum at the Mint where the exhibition of his artwork is currently displayed.
Tambourine Station Hosted by Hermann-Grima + Gallier Historic Houses
Hermann-Grima + Gallier Historic Houses will offer a musical craft table! Kids can make and decorate their own tambourines to shake and dance with at the fest! Kids will be able to design and paint the tambourines and tie bells along the side to create music of their own!
Tricentennial Drum Making Hosted by Kamau Wesley Phillips
Participants will make a conga drum to honor Satchmo's ancestral roots in Africa, and New Orleans' Congo Square located inside Louis Armstrong Park.  Kids will develop patience, and improve their motor skills while completing a real instrument using recycled items.
Satchmo Book Nook Hosted by New Orleans Public Library
The NOPL will be offering a fun, book-making craft for kids, and have a variety of library giveaways for all ages! Learn about Louis Armstrong, Jazz and New Orleans through a curated little library with books provided by the NOPL. Specifically selected books will be on display to showcase the life and music of Satchmo for younger reading levels, this book nook will be a great place to become inspired by history!
Satchmo Safety Station – Bead Bracelets Hosted by FQFI
Kids can enjoy making their own beaded bracelets while providing their parents with peace of mind!  Safety meets fun — these cell phone number bracelets are perfect for the large crowds of a festival environment.
Jazz Mass and Satchmo Salute
Come celebrate the annual Jazz Mass sponsored by Rhodes Funeral Home at St. Augustine Catholic Church (1210 Governor Nicholls), featuring Treme Brass Band on Sunday, August 5. At 11am, immediately following mass, join the "Satchmo Salute" second line parade featuring Zulu Social Aid and Pleasure Club, Million Dollar Baby Dolls, Al "Carnival Time" Johnson, Sudan Social Aid and Pleasure Club, Fi Yi Yi, Boe Monkey Red, and more! The parade makes its way from the church to Armstrong Park before secondlining down Rampart to Esplanade and the Festival!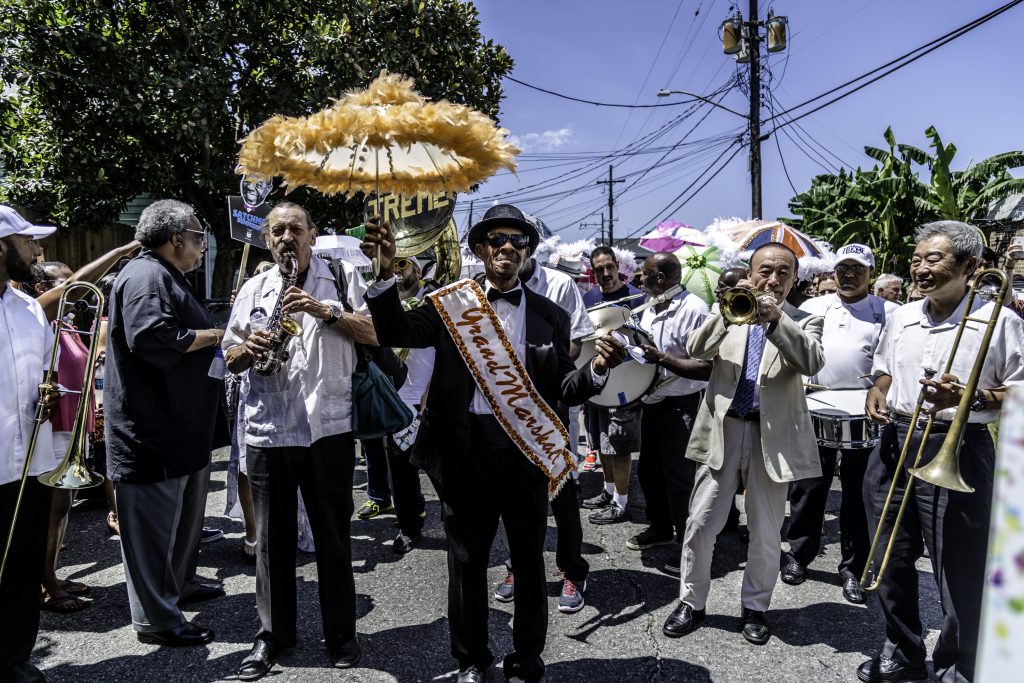 Satchmo Legacy Stage
Three Days of Fascinating Discussions by Renowned Armstrong Scholars
Click here to watch recordings from previous years and subscribe to our YouTube Channel French Quarter Festivals, Inc. for more!
Friday, August 3
11:30am – 12:45pm Dr. Kim Vaz: New Orleans Baby Doll Masking Tradition
1:00pm – 1:45pm Catherine Russell: Pops and Billie Holiday – Mutual Admiration Society
2:00pm – 2:45pm Paul Kahn: Louis Armstrong's Vaudeville and Minstrel Roots
3:00pm – 3:45pm  Scott Wenzel: Bert & Bojangles: Louis's Early Inspirations
4:00pm – 4:45pm  Randy Fertel: Saving the 'Holy of Holies': The Eagle Saloon Initiative
5:00pm – 5:45pm   Ricky Riccardi: Video Pops – Day 1:  "What a Wonderful World": The First Fifty Years
Saturday, August 4

11:30am – 12:15pm Daryl Sherman & Don Vappie:  I'VE GOT A HEART FULL OF RHYTHM:  Satchmo The Composer
12:30pm – 1:00pm Sascha Feinstein: Pops and Poetry: A Reading
1:15pm – 2:00pm  Jerry Roche/Ricky Riccardi: Making "The Louis Armstrong Legacy Series" on Dot Time Records 
2:15pm – 3:00pm Maxine Gordon: Louis as King of the Zulu, 1949
3:15pm – 4:00pm Bruce Raeburn/Björn Bärnheim: When Louis Came to Sweden (1933-1965),' Björn Bärnheim in Conversation with Bruce Boyd Raeburn

4:15pm – 5:00pm Vic Hobson: Creating "Chimes Blues": Louis Armstrong's Street Quartet
5:15pm – 6:00pm Ricky Riccardi: Video Pops – Day 2: Louis Armstrong on the Mike Douglas Show – 1964
Sunday, August 5

11:30am – 12:15pm A Tribute to George Avakian
12:30pm – 1:15pm Mick Carlon: Swing Kids, Ruby Braff, and Pops Goes Hawaiian
1:30pm – 2:15pm  Sarah Rose/Ricky Riccardi: "For Posterity": Sharing the Legacy of Louis Armstrong
2:30pm – 3:15pm  Adriana Filstrup: The Music in Satchmo's Manuscript
3:30pm – 4:15pm  Matt Sakakeeny: The Mind of Louis Armstrong
4:30pm – 5:15pm  Gwen Thompkins: "You Can't Figure Louis"
5:30pm – 6:15pm  Ricky Riccardi: Video Pops – Day 3: Louis Armstrong on the Mike Douglas Show – 1970 
Check out past presentations from the Satchmo Legacy Stage &
Subscribe to our YouTube Channel French Quarter Festivals, Inc. for more!